Description
▶ WHY ZMX? ZMX is a high quality combination of elemental Zinc and Magnesium plus Vitamins B6 and B12. A newer and more comprehensive formula to the popular ZMA supplement ZMX packs an extra punch containing high strength ingredients specially selected by our health and nutrition experts to assist both men and women with active lives!
▶ REST & RECOVERY - ZMX contains Zinc which contributes to the maintenance of normal Testosterone Levels in the blood. Magnesium which contributes to normal Muscle Function and to Electrolyte Balance. It is also high in Vitamins B6 & B12 contribute to the reduction of tiredness and fatigue and a normal energy-yielding metabolism.
▶ OPTIMUM POTENCY AND FULL TRACEABILITY - Each capsule contains a precision dosage of elemental Zinc and Magnesium plus Vitamins B6 and B12 from premium natural sources with full traceability to ensure you experience the best results from these essential vitamins and minerals. Each serving is only 2 capsules unlike other brands which can be up to 6 capsules, this is thanks to the quality of ingredients and our passion to create the best supplements.
Do not exceed recommended dose.
This product is not intended for pregnant or nursing mothers, children under the age of 18, and individuals with a known medical condition or allergies.
Please consult a doctor/GP before using this or any other food supplement.
This product is not intended to treat, cure or prevent any disease.
Food supplements should NOT be used as a substitute for a varied diet and a healthy lifestyle.
This product has been manufactured in the UK to GMP Standards and ISO 2000:9001 Quality Assurance.
Customer Reviews
Write a Review
Ask a Question
02/20/2021
David S.

United Kingdom
02/02/2021
Anonymous

United Kingdom
12/22/2020
Oleksandr .

United Kingdom
12/20/2020
Michael W.

United Kingdom
Excellent Product
These are nicely packaged and easy to swallow. The 200 caps per bottle mean you get over 3 months supply per bottle which is brilliant for the price. I take the 2 before bed and the quality of my sleep has improved and I wake up feeling refreshed and energised. I have started training in the gym or at home twice per day due to lockdown and being off work and these have aided my recovery and allowed me to maintain muscle whilst getting leaner in conjunction with my diet. Would very much recommend.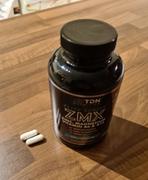 01/18/2021
Anonymous

United Kingdom
Awesome Product
This is the best combination of Zinc, Magnesium and Vitamin B6 & B12 I've come across. Vegan friendly and easy to swallow tablets and a very reasonable price too Highly recommended