Description
▶ HIGHEST GRADE HYDROLYSED PEPTAN MARINE COLLAGEN - TDN's Marine Collagen Complex not only contains more Marine Collagen per capsule than competing brands (1100mg per serving) but it also contains the highest grade Type 1 Hydrolysed Peptan Marine Collagen. Peptan is a premium marine collagen sourced from only EU registered facilities based in countries such as Iceland which process culinary grade fish, the collagen is extracted from part otherwise thrown away making it environmentally-friendly, sustainable and extremely high quality.
▶ ENRICHED WITH HYALURONIC ACID, ALOE VERA, VITAMIN C & E - Our most advanced formulation contains a special selection of added ingredients including nourishing and hydrating Aloe Vera and Hyaluronic Acid as well as a complex blend of essential vitamins and minerals such as Vitamin E and C which contributes to normal collagen formation and the protection of cells from oxidative stress, Zinc and Selenium which contribute to the maintenance of normal hair, skin and nails, Vitamin D3 which has a role in the process of cell division and Vitamins B6 and B12 which contributes to the reduction of tiredness and fatigue. (Claims substantiated by EFSA)
▶ HIGH QUALITY, EASY TO TAKE AND RELIABLE - Enhance your daily health and well-being routine with TDN's Marine Collagen Complex! Our unique multi-complex has been specially developed by our formulation experts with research-backed ingredients shown to help support healthy hair, skin and nails as well as supporting collagen formation for healthy joints and bones and to protect cells from oxidative stress. Each bottle contains 90 easy to swallow capsules and are designed for men and women of all ages. It's time to feel like you again!
---
Ingredients: Hydroxypropyl Methylcellulose (Vegetable Capsule Shell), Marine Collagen Powder (Fish), Vitamin E, Hyaluronic Acid Sodium, Anti-Caking Agents (Magnesium Stearate, Silicon Dioxide), Vitamin C (Ascorbic Acid), Brown Rice Flour, Zinc (Citrate), Aloe Vera Extract, Selenium, Vitamin D3 (Cholecalciferol), Vitamin B6 (Pyridoxine Hydrochloride), Vitamin B12 (Cyanocobalamin)
Directions: Take 2 capsules daily (or as directed by your GP) with a full glass of water.
Do not exceed recommended dose.
This product is not intended for pregnant or nursing mothers, children under the age of 18, and individuals with a known medical condition or allergies.
Please consult a doctor/GP before using this or any other food supplement.
This product is not intended to treat, cure or prevent any disease.
Food supplements should NOT be used as a substitute for a varied diet and a healthy lifestyle.
This product has been manufactured in the UK to GMP Standards and ISO 2000:9001 Quality Assurance.
Customer Reviews
Write a Review
Ask a Question
10/14/2020
Jane L.
United Kingdom
10/13/2020
Anonymous
United Kingdom
Best of the best!
I purchased this product for my wife as she she had tried various other products but wasn't achieving the desired results. After using this within a week she felt the difference and over a few weeks the results were outstanding. She said her skin felt softer and smoother and her hair became more stronger and silky, and was falling out a lot less. She will definitely continue to use this product and highly recommends it.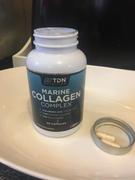 10/12/2020
Wendy P.
United Kingdom
Marine Collagen Complex
I have lost 20 pounds recently and on a small frame like mine it would normally result in some amount of loose or crepe-y skin. I've been taking marine collagen for a couple of months and it has definitely helped avoid that. My joint pain and muscle recovery have also improved. Definitely recommended.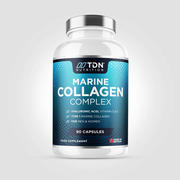 GC
10/10/2020
Gina C.
United Kingdom
10/15/2020
Anonymous
United Kingdom
Notice the difference
I kept an open mind but really did notice the difference so I ordered some more.